Well its almost here, and I was going to do more
Christmas Tubes for you, but thought you will have enough by now..
so to keep you going till the New Year ones are ready,
56 Tubes + 28 Close ups.!
WOW... this lady has it all. She's one beauty.
Her outfit comes in 2 colours, she has a choice of
4 make-ups and 7 Hair Colors.
The tubes have every combination there is possible.
The file includes both PSD and PNG files
so they are suitable for all programes.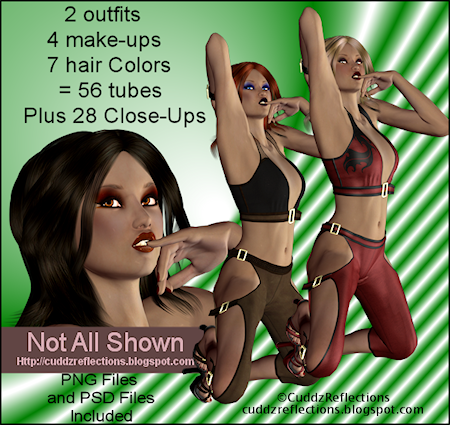 PU ONLY Please!
HAVE FUN WITH HER.
xxxxxxxxxxxxx
YOU MUST USE A LICENCE NUMBER WITH THESE TUBES
SEE TOU IN DOWNLOAD FILE FOR DETAILS!
********************************************