51 tubes in total for you. Bargain at $2 *Winks**
Hiya everyone,
Hope you are all smiling and ready for the fun.
Change his outfit,Change his hair color,
Even dress him as a leprechaun...
This hunk is just waiting to spice up your projects..
or have little fun...as the mood takes you lol.
There are 30 tubes in pinup style for you,
to compliment your projects.
Then open the 21 Bonus Tubes for those fun projects,
his face has gotten a little dirty, and he has that
slightly mischievous look on his face lol
and of course he dressed as a leprechaun for the occasion.
The possibilities are endless.
All you have to do is get creative with your latest project,
and have lots of fun.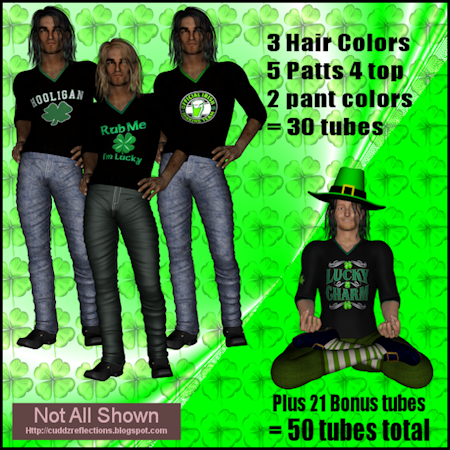 PU ONLY Please!
HAVE FUN WITH HIM.
xxxxxxxxxxxxx
YOU MUST USE A LICENCE NUMBER WITH THESE TUBES
SEE TOU IN DOWNLOAD FILE FOR DETAILS!
******************************************************************************