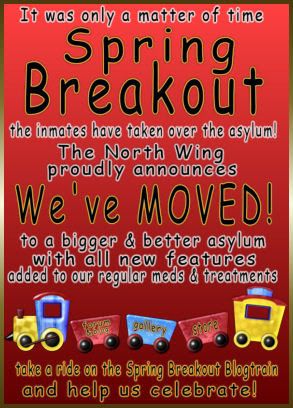 reports have just come in and the Inmates at
The North Wing Asylum
have broken out and are currently residing at a new site,
One inmate - Cuddz - had this to say
As many of you know we have have not been very happy
with the forum we had with Aimoo
Far too many issues with them and very expensive.
Our Matron Gypsy had plans to open a new place that incorporated not only a Forum,
but a Blog, Store, Tutorials and many other things.
Sadly, Gypsy was taken from us, in January 2010,
far too soon
although we know she is watching over us.
We, her staff decided that her dream should become
reality and so
The North Wing Asylum
is now officially open!!
Please drop by and have a look round,
I can promise you wont be disappointed and everything
you need is all there under one roof.
Careful as you go though, the builders are still working and
the doc is scouting for new inmates to give
his famous meds to.
We have also received information that a Blog Train will be leaving the Asylum
shortly...reports on that to follow